Manila's club scene diva turned Dumaguete's fabulous tour guide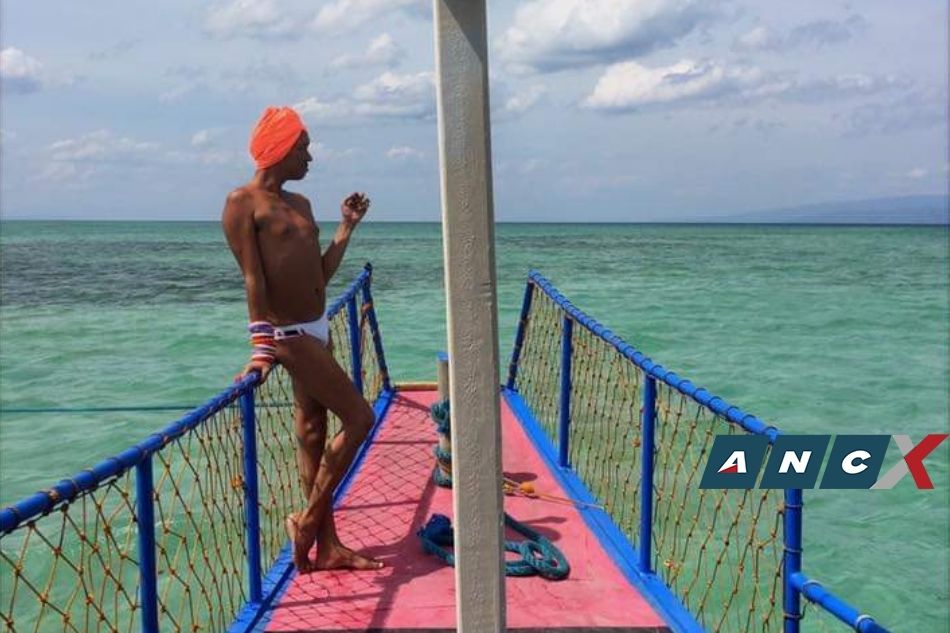 Culture
For the rave kids of the 90s, Angelo Villanueva was the Diva Supermodel of the club scene. These days, it looks just as fierce with the natural wonders of Dumaguete as a backdrop.
Dahl D. Bennett | April 02, 2022
"I'm not a diver, I'm a diva," reads the caption of Angelo Villanueva's photo where he is shown posing on a boat with the turquoise waters of Dumaguete as a backdrop. He's wearing a two-piece, bikini bottom and bright orange turban, that is. On the contrary, the image partly captures how life in Dumaguete, tranquil, low-key and idyllic, allowed this former fashion designer and figure of the 90s club scene to continue to fly his fabulous flag.
"From the fast-paced urban chaos to the blistering slowdown of time, it was the best decision I've ever made," says Villanueva, who moved to this beach town from Negros Oriental in 2009.
Before Dumaguete, Villanueva's life in fashion and Manila's party scene was at an exciting point. "I was working in such a creative environment," says one of the local edition's first stylists. His services were sought after at fashion shows, events and product launches. As well as a busy career in fashion, he was a familiar sight in hip Manila clubs from Malate to Makati, where he oscillated between DJing and door bitch playing.
Before making the big move to Dumaguete and leaving the "big bad city," he questioned his readiness, asking the Manila boy in him, "Will I survive?"
But not only Villanueva survived; he thrived and continued comfortably with his "diva" persona, this time as a local tour guide, an ambassador for Dumaguete's rich culture and popular and hidden attractions. In his fabulous caftans, his big jewels, his big shades, with a native bag in tow, the imposing figure (that's why he is called "Supermodel Diva", a nickname from the time of his ABG) accompanies the bakasyonistas on bespoke tours around Negros Oriental organized by the company he runs, Dumaguete Outdoors. "The transition was really, really easy. I totally adapted to buhay probinsya," he says.
The decision to move to Dumaguete was also partly due to his family's ties to the province. "My grandparents were both Negrosanons and my father was born here," says Villanueva, one of three sons of Fidel V. Ramos' former press secretary Hector Villanueva.
The fierce and fearless ex-stylist shares the same story with so many others – expats and urban warriors from Manila – who have decided to make the idyllic town of Negros Oriental their home. In the process, the place has kind of transformed them – and mostly for good. "[My] the way of life has changed since the Roaring Twenties of city life. [Dumaguete] gave me a healthier, younger and more positive outlook on life.
The "charms" of Dumaguete are world famous, so much so that Forbes magazine ranked it fifth in a list of the seven best places to retire in the world in 2014. It was also the first city in the Visayas to receive Deemed Best Retirement Area as Retiree-Friendly Status (RADAR) by the Philippine Department of Tourism Retirement Agency in 2019.
"Best retirement spot" status notwithstanding, Dumaguete ticks so many boxes for anyone looking to put down roots in a place characterized by small-town comforts with a cosmopolitan vibe. At the top of this list are its beaches and natural parks that extend to the rest of Negros Oriental. The easily affordable cost of living and sunny climate (the city is rarely visited by typhoons) are also prime considerations for retirees moving there.
Dumaguete also has an international crowd made up of not only students (there are around 300 foreign students from 53 countries studying at Silliman, according to the university's website) but also tourists and expats. There are also a number of restaurants serving international cuisine.
Dumaguete is also known for its vibrant academic, cultural, artistic, and literary scene that stems from the seven colleges and four universities in this university town, the most recognizable of which is the now 120-year-old Silliman University.
What brings this charming mix of attractions together is the most prominent of all Dumaguete landmarks, the 780 meter long Rizal Boulevard which overlooks the Visayan Sea and is the hub of activity in the city. This is one of the first places new visitors are likely to have their first encounter with the city's famous "nice people".
So it was no surprise that when the local government announced it would support plans to build a fully-funded PHP23 billion township just 30 meters off the coast of Dumaguete, locals like Villanueva been caught off guard. The tour guide joined a few protests last year against the ramping up of the 174-hectare reclamation project dubbed the "smart city" of Dumaguete. The project was suspended last September.
According to her Instagram, in recent months Villanueva has been visiting different places in the country, reuniting with old friends, likely taking advantage of the more relaxed pandemic restrictions. But summer is here and the diva is back home in Dumaguete and "back in action," as he puts it. Repeat its tours, taking its visitors to Apo Island, the Manjuyud sandbar, the Casaroro waterfalls in Valencia. Show everyone the charm and soul of this charming town on the island of Negros.
The charm and soul of Dumaguete are the very reasons people like Villanueva choose to stay here for good. "Dumaguete draws you into his arms," he says. "Everyone knows each other to some degree. It is a safe and wonderful environment in which to live. You may never want to go back to the concrete jungle.