How to become a tourist guide: Marzena's story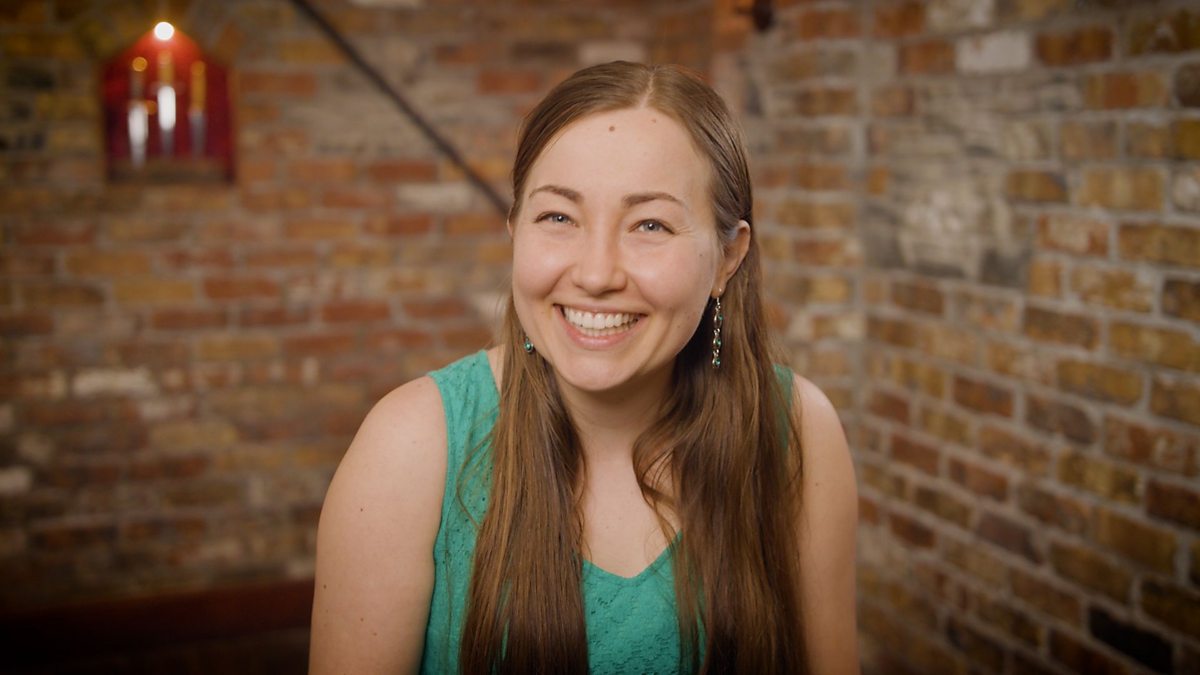 Marzena:
(Spanish) Me llamo Marzena y soy guía turística. – My name is Marzena and I am a tourist guide.
My name is Marzena and I am a tourist guide.
(Polish) Nie wiem, czy widzieli Państwo już mapę, ale na mapie tutaj widzimy Irlandię… – I don't know if you have already seen the map, but on the map here we see Ireland…
I take tourists to a television studio where they shoot a hit fantasy drama. People walk around taking pictures of the set and we tell them everything we can about the show. I was also an extra on the show, so I'm very happy to share my experience. I accompany tourists in English, Spanish and Polish. I also sometimes use a little Russian and Portuguese.
(Polish) Czy widzieli Państwo już dużo? – Have you already seen many?
It's such a wide range of people, from families with kids to older visitors, and it's great to be able to talk to any of them. As we talk, I get to know them better. I love to hear their stories in their own language. They can be so interesting.
(Spanish) Sí, y hemos tenido mucha grabación también. – Yes, and we had a lot of recordings too.
I'm Polish and I started learning English and Russian at school. I then studied English and Spanish at university. I learned Spanish almost from scratch. Before I graduated, I only knew a little bit by watching South American soap operas. The experience of knowing more than one language is definitely unlocked for me, the ability to understand different languages
(Spanish) No se si habéis visto todavía el mapa – en el mapa… – I don't know if you've ever seen the map – on the map…
Earlier in my career, I had various jobs, but I really wanted to become a tourist guide. So I went to Madeira and did the European Voluntary Service course, guiding tourists around a college and the church. It was a great way to improve my languages ​​and make me less shy. Then I moved to Northern Ireland and became an extra for this fantasy drama series. My fiancé and I knew the studio was going to open to the public, and we emailed them asking if they needed tour guides, and I went for an interview. My language skills were very important to the people who hired me, but so was the fact that I was really open and talkative.
(Polish) … take your część zielona. – … so it's the green part.
I dlatego później oni… wydawało się, – That's why it seemed later
że oni są stworzeni tak naprawdę z samych kości. – that they were entirely made of bone!
When you start out as a tour guide, it can be difficult if you're not used to talking to people so much in a foreign language, but soon it starts to come very, very naturally. Don't be shy, just be brave. Be open and talkative.
(Spanish) Podemos ver también cómo está construído el 'set'. – You can also see how the set is assembled.
I wish I had known this earlier to learn as many languages ​​as possible.
Each can also open other languages ​​to you. Learning Spanish helped me learn Portuguese because they are similar. Learning languages ​​will certainly always be useful. This means that you can talk with so many people and they are always more open and expressive if you talk to them in their own language. Also, by learning languages, you can learn a lot about different cultures. It's so great to explore places without the language barrier, and learning Spanish means you can speak with almost the entire continent of South America. What an incredible thing.