Admissions to reward $500 tour guide for creative way to challenge perceived violence – Chicago Maroon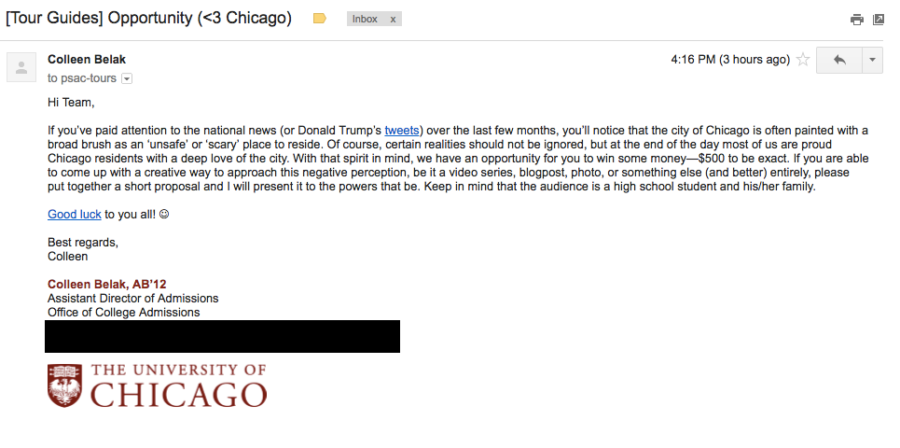 "Keep in mind that the audience is a high school student and his family."
On the heels of Chicago's deadliest year in nearly two decades – and a tweet about it from the president-elect– the admissions office is offering a cash reward to a tour guide who can find a creative way to dispel the "negative perception" among prospective students and their families that all of Chicago is unsafe.
That's according to an email sent Tuesday by assistant director of admissions Colleen Belak to student tour guides. The tour guide who provided the email to Brown asked to remain anonymous due to a privacy policy.
"If you've been paying attention to national news (or Donald Trump's tweets) over the past few months, you'll notice that the city of Chicago is often painted with brushstrokes as a 'dangerous' or 'scary' place to reside," a writes Belak to the host of the campus tourist guide list. "Of course, certain realities should not be ignored, but at the end of the day, most of us are proud residents of Chicago with a deep love of the city."
"With that in mind, we have an opportunity for you to earn some cash – $500 to be exact. If you are able to find a creative way to address this negative perception, let it be a series of videos, a blog post, a photo or something else (and better) entirely… Keep in mind that the audience is a high school student and his/her family."
A section on the admissions website reads, "While Hyde Park is considered one of Chicago's safest neighborhoods, city life demands street smarts." The site lists a number of resources about campus safety and the University of Chicago Police Department (UCPD). "The feeling of safety is one thing that makes UChicago a great place to call home."
University administrators have worried about fears that crime will keep potential students away since at least the 1970s, when a high-profile crime wave appears to have led to a decline in female student enrollment.
According to the Chicago Police Department's CLEARMAP, Hyde Park ranks 52nd in violent crime incidents of Chicago's 77 community areas over the past year. The neighboring neighborhoods of Woodlawn and Washington Park rank 22nd and 27th, respectively. The Hyde Park Herald recently reported that violent crime was down in Hyde Park in 2016.
In July, the University announced it was increasing the number of UCPD officers by 28%, citing community concerns about crime, particularly theft, in the area. In October, Brown reported that there was a series of off-campus burglaries just north of campus where many students live.